Did you know that there is an art to finger painting? I did not until I googled the words finger painting. Whoa! Apparently, I've been finger painting incorrectly all my life. Who knew?
So, the first thing to know about finger painting is that the paper must be damp before you begin. If the paper is not damp, the paint will not spread nicely. So, instead of keeping the paper on our art easel, I taped it to the floor and dampened it with a wet cloth.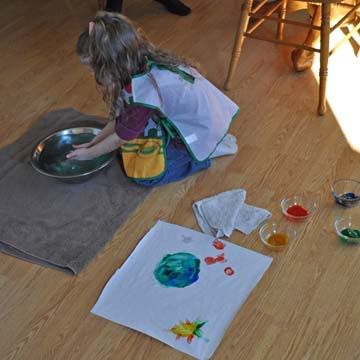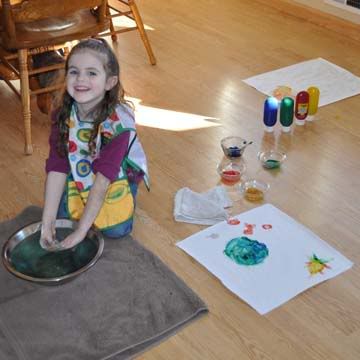 Another thing to know is that there are different methods of finger painting. We studied the finger and palm method this week. We dabbed two different colors on Chloe's palms. Blue and green. Then we spread each finger with a color and she pressed her entire hand on the paper and moved it back and forth. This effect created a world. She then added animals to the painting with her fingers.
After the first instructed painting, I allowed Chloe freedom to use her fingers in whatever way she wanted on the second painting. She enjoyed experiencing the mushy paint through her fingers and rubbing it around on the paper to create new colors. This is a big change from a couple of years ago when she cringed if paint even touched her fingers.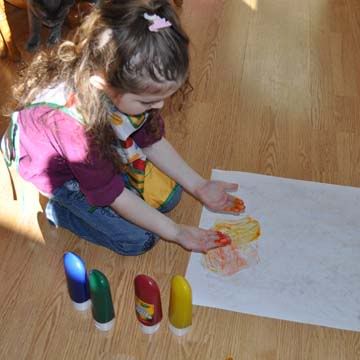 Our next art project was painting gift bags using the printmaking method. I gathered up all the fruits and vegetables I could find in my bare refrigerator and we got busy painting numerous gift bags.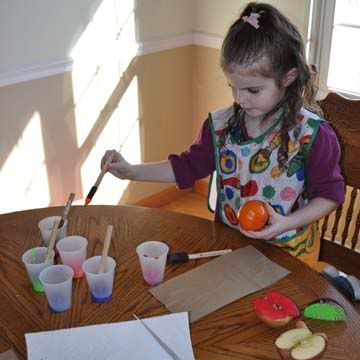 Instead of making the gift bags like the book suggested, I simply used paper lunch sacks. It was easier for me and some days I just need something quick and easy.
After she made four or five print gift bags, Chloe's eyes widened and she exclaimed, "Oh! I know! I can make puppets!!!" My heart thrilled at her creativity. So, I told her it was a fantastic idea.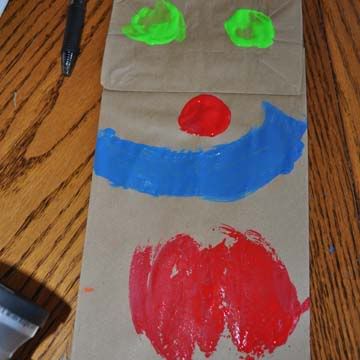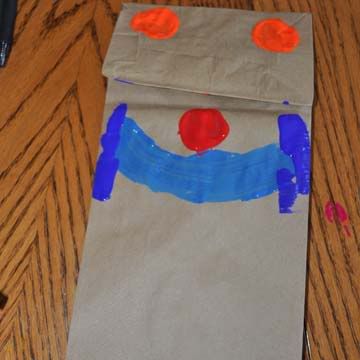 While we were painting, a curious visitor showed up to watch.
We thought it might be fun to dip Bumblebee's feet in different colors of paint and let him walk on the paper. Then we decided it might not be such a good idea after all. He certainly enjoyed watching Chloe paint though. He seem thoroughly intrigued.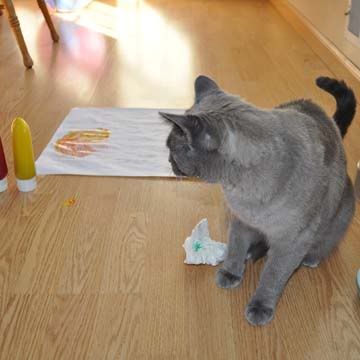 Maybe someday I will allow him the privilege of joining in on our homeschooling adventure.