I am so far behind in posting on this blog. I am terribly sorry.
We started our fourth week of school today and I thought I would quickly share some pictures of the past three weeks with you. I will have more to talk about tomorrow (I hope) but hopefully you will enjoy a few pictures in the meantime.
Princess Chloe counts bowling pins for math. We took turns throwing one across the yard and then counting how many were left. She found this quite fun.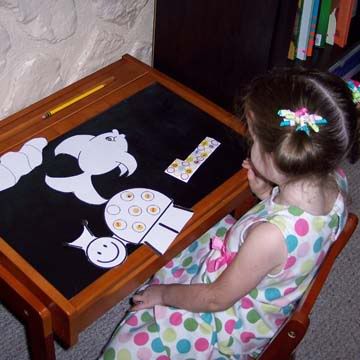 Another math activity she found fun was counting out stickers and tacking them onto a picture I printed off the internet and cut out. (I used basic coloring pages that can be found using google.)
For history we learned about the early man and the different things they ate and tools they used and whatnot. We made a coracle, which is a boat made from the skin of an animal and stretched over a frame. Chloe immediately wanted to know if it would float and so we tested it in a sink full of water. We both cheered when our pipe cleaner/plastic garbage sack boat actually floated.
I didn't have the cork to make an early man necklace so I just found some wooden beads from my crafting stash and I had Chloe lace them onto a piece of thread. She loves this sort of thing and I don't think she minded one bit that I didn't provide "authentic" supplies.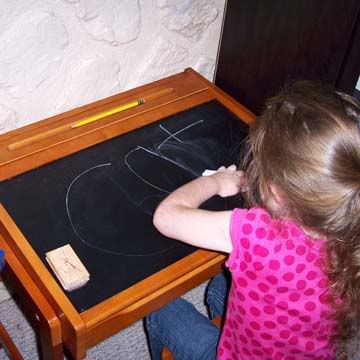 This chalkboard desk sure comes in handy, quite a bit. I am so glad we purchased it last year. I have her write her spelling words on it once it a week, just to change up the pace. She can write them as big or as little as she wants. Needless to say, she takes up the entire desk, most of the time.
Chloe loves the science experiments this year. We had a paper race our first week of school. Chloe's paper won. Mine blew into my flip flops, which I accidentally left by the back door in the kitchen, and got stuck.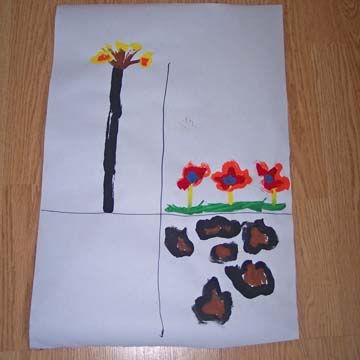 We studied the weather for a couple of weeks and on the day we learned about the four seasons, I had Chloe paint a picture of what she thought each season would look like in our neighborhood. She loves fall and so she painted two squares fall and forgot a summer square. When I questioned her on the white square she left blank, she nonchalantly informed me that it was snowing on that square.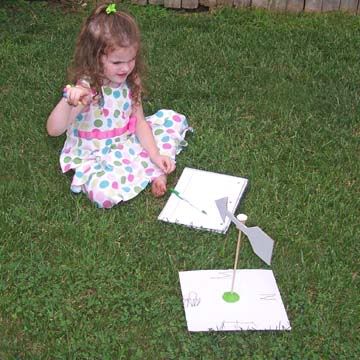 We made a weather vane and I have to say, this might just be Chloe's favorite activity so far. She loved putting this one together and watching the wind blow the arrow around.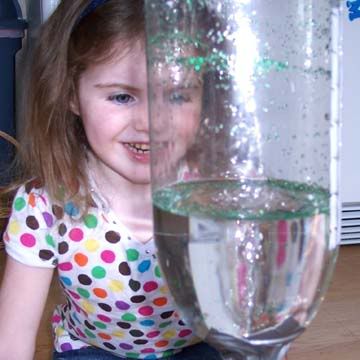 Of course, I can't forget the tornado in a bottle. This was another one of Chloe's favorites. She still plays with it, a week later. I have been kind of amazed that our science experiments have actually been working. Its been wonderful to see her eyes light up when something amazing happens right in front of her. It might be a little something, but it is still amazing.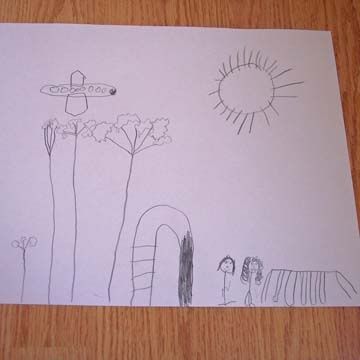 Two weeks ago, for art, I had Chloe close her eyes and imagine she were taking an adventure. Where would she go? How would she get there? Who would she meet when she arrived? What would she do when she stayed there?
She imagined herself flying in an airplane to a park far away, one which she has never been to before. She would meet new friends and they would swing on the swings and slide down the slide together. I then instructed her to draw her adventure on a piece of paper. I taught her how to draw various things on scratch paper before she attempted her final version on the "real" paper. We had a few tears with this project. She longed to draw an airplane but cried when she couldn't do it "right". I worked her through some simple steps and she was quite pleased with her final project. She came up with the trees at her park by herself. I was quite impressed, actually.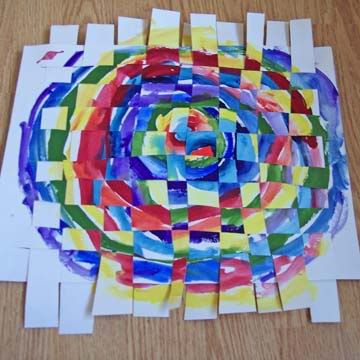 Weaving Watercolor. This has to be my favorite art project we have ever made. I loved it. (I made one myself too. he he he) I told Chloe to pick a shape (circle) and then using watercolor paints, she needed to paint a circle in all the colors of the color wheel. (I only included Primary and Secondary colors for her.) For her first painting she needed to use the colors in order around the wheel. I gave her freedom to use whatever colors she wanted on the second painting. After they dried, we cut them and wove them together. Even though this project took quite a bit of time, Chloe says she loved it.
I must be off now. We have had a busy day and I need some sleep. Hopefully, tomorrow I will be able to find some time to share with you a wonderful idea a friend of mine came up with to solve our problem with tears during language arts. Have a wonderful week!