I find it humorous that I blog more during summer break than I did during the school year. At least it feels like I do.
Anyways, I wanted to share with you some of our recent art projects we've been working on this summer. I just couldn't wait for kindergarten to start in THREE MORE WEEKS so I've been doing some projects with Chloe each day. I really believe she is an artistic girl and if I teach her more of that sort of thing that she could excel in it. She is a most creative child.
First, I brought out her art supply box, printed off a couple simple pictures and let her use whatever she wanted to make a collage with. Here are the pictures she came up with. It took her 7 continuous hours to make these three pictures. Talk about a long attention span.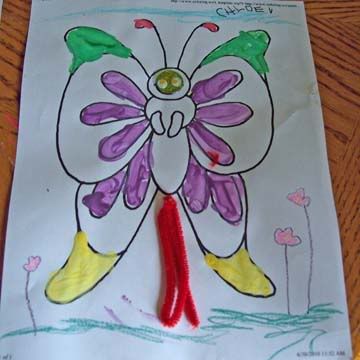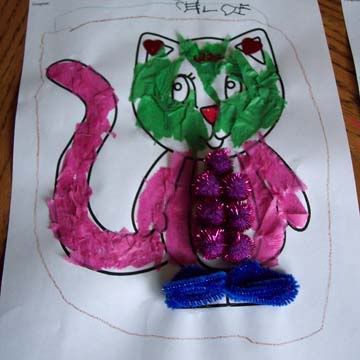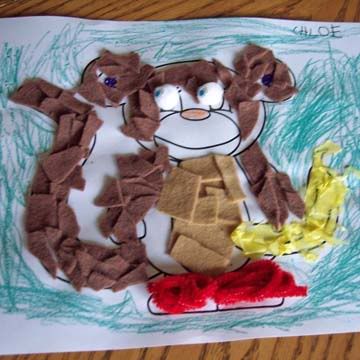 The monkey is my personal favorite. She used felt (which she cut into small pieces), pipe cleaners, wiggle eyes, pom poms, tissue paper, stickers, glitter and more for her creations. We are going to put them into a book to send to her Grandma. I so wanted to keep these for ourselves but she is bound and determined that they are Grandma's and how can I say no to that? She made them from her heart to her grandmother. To grandma they will go.
I researched some kindergarten art projects on the internet for our school year. There were so many projects out there that I just had to do a few with Chloe now instead of waiting for school to start (in THREE MORE WEEKS!). I found an
Ed Emberley
book at the library and checked it out so we could begin drawing. What a fantastic book. If you have young children, you should check this book out. If they can draw a few simple shapes and letters, they can draw animals. Its quite fascinating.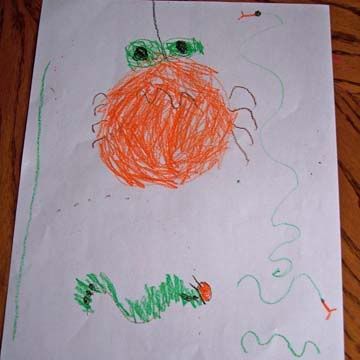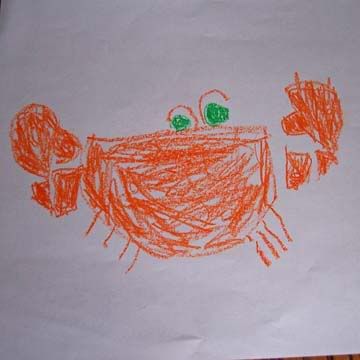 Chloe is quite proud of that crab. It took quite a bit of work as there were many steps involved, but she says it was worth it. Now when she sees a picture of crab when we are out and about, she states proudly, "Look Mama! I can draw that crab!"
We learned about abstract art last week by doing this little project. James helped me with this one. I gave an instruction and we were all to do that instruction. Then, we held up our final pictures to see how different they were using the same instructions. (like, "draw a triangle".)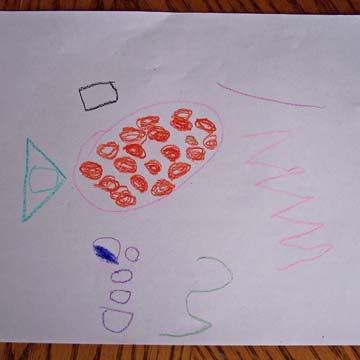 Chloe's Abstract Art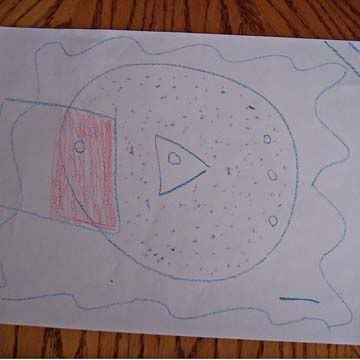 James' Abstract Art



Anna's Abstract Art
Another day I instructed Chloe to draw a shape in the center of her paper and then to draw swirly lines coming off it. Then she needed to fill in those lines with as many colors and shapes as she could. I made the same project with her.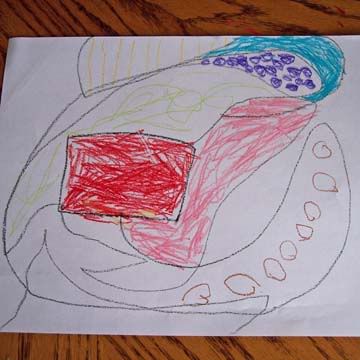 Chloe's Swirly Line Picture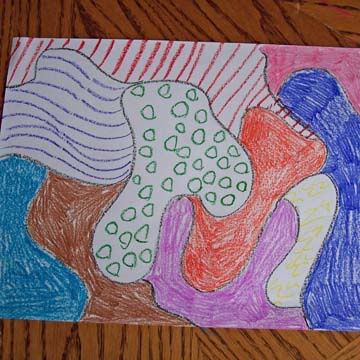 Mama's Swirly Line Picture
Today I had her trace her hands on a piece of paper and then we had a lesson about primary colors. She painted her hands the three primary colors. Then I asked her to choose two of the primary colors and mix them together to make a secondary color. We painted around our hands in the secondary color.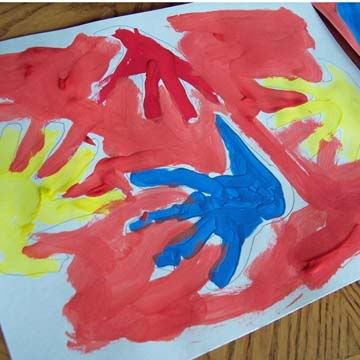 Chloe's Hands



Mama's Hands
After that, I filled some little plastic cups with water and put red, blue and yellow food coloring into them. I had her help me mix them together in other cups to see what colors they would make. She loved this activity. I can't wait to do another project tomorrow. We are having a blast this summer.