Yesterday we started kindergarten. What a wonderfully tiring day! It couldn't have been any better. We started off the morning by opening a gift in bed. Tell me, please, what child does not like to open presents? Especially first thing in the morning???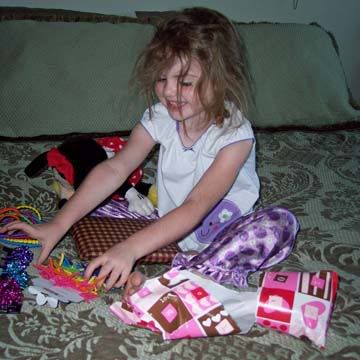 And what was the new gift? "Ahhhhhh....A Dress!!!" she said as she fell back onto the bed.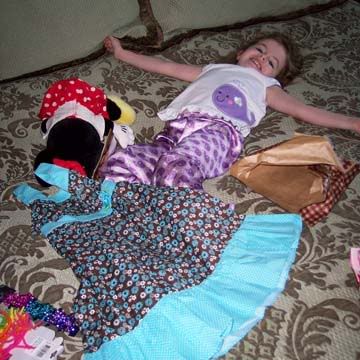 (She even got new hair bobbles which received their own shouts of joy when it came time to put them in her hair. I don't think she knew what they were when she opened them.)
The first day of school started off with a cooking lesson.
How to Make the World's BEST Breakfast!
(It went over well and I am sure she learned much.)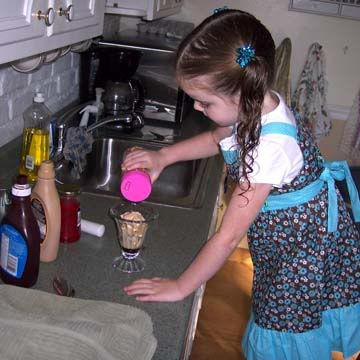 I will break down the process in case you feel the need to instruct your own children in the art of making the
World's BEST Breakfast.
STEP 1 - Pour a bit of chocolate syrup in the bottom of a sundae cup (or bowl if you don't have a sundae cup available)
STEP 2 - Add two scoops of your favorite ice cream
Step 3 - Add your favorite toppings. Ours look something like this...chocolate syrup, sprinkles and a maraschino cherry.
Step 4 - Photograph the grins on your childrens faces as they realize you were indeed serious when you stated that they were to eat ice cream for breakfast. (NOTE: Ice cream for breakfast one day a year will not harm your child in any way. It might actually be
good
for them.)
After we cleaned up breakfast and finished our chores for the day, school began promptly at 9:06. I just need to put this out there for the second year in a row. I LOVE HANDWRITING WITHOUT TEARS!!! (all caps because I was shouting it at you.) I really do love this curriculum. Absolutely the BEST! And quite literally...without tears.
I moved our schoolroom downstairs this year to make it a little more secluded from the main area of the house and because I actually have bookshelves down there. I like the set up.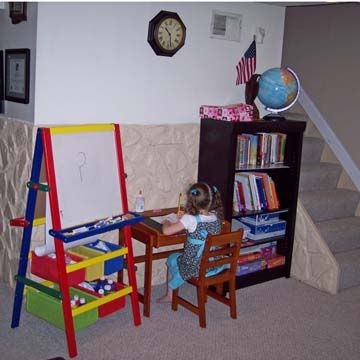 The easel next to the desk really helps with the instruction portion of things. I can show her how to form her letters and such so she can see me while she is writing. Perfect.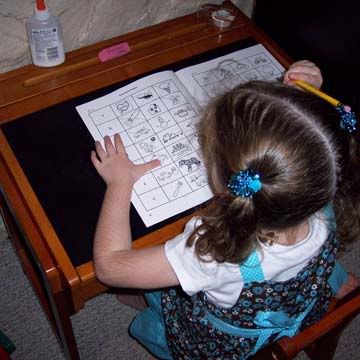 After school ended for the day, we opened our main gift. Sea Monkeys.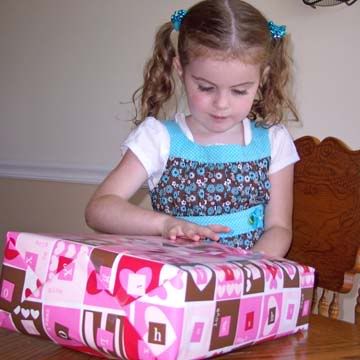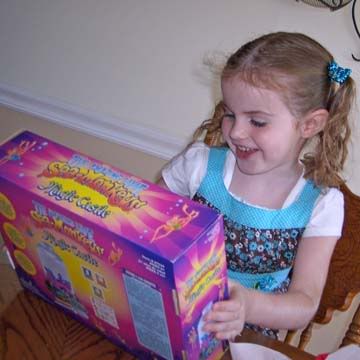 These are, indeed, a real creature somewhat related to a Brine Shrimp. We get to watch them hatch and grow over the next 1-2 years. (If we manage to keep them alive that long. We shall see.) After school we drove to base for lunch with Daddy.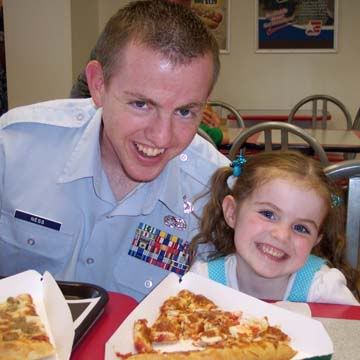 After lunch we headed to the pond to feed the ducks.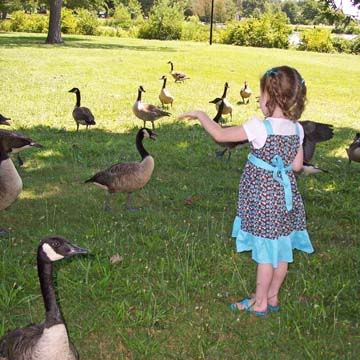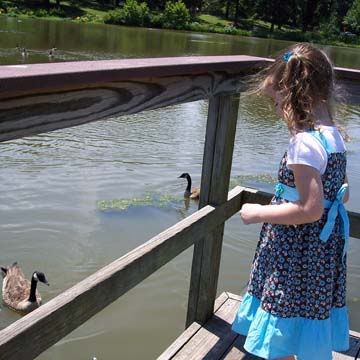 We ended our school day by visiting the library for a field trip where Chloe received her first library card with her own name on the front and a backpack to carry her books in when we visit the library. She was very pleased with this backpack and I think it was her favorite part of the day. We learned how to look up books on the catalog at the library. It's pretty neat because they have a children catalog with pictures next to each subject category. We will need to practice this a few times.
All in all, it was an excellent first day of school which ended with a fantastic pencil cake after Chloe and Daddy returned home from a hike in the park (during which I decorated the cake).