Last week a wonderful present arrived for our "schoolroom". (Which, in all actuality, looks quite similar to what one would call a dining room.) I was reading in Chloe's
Handwriting Without Tears
teacher's guide the importance in preschool and kindergarten aged children to maintain proper posture while learning to color and write. A portion of the correct posture involves feet touching the floor while sitting in a chair. Unfortunately, Chloe cannot reach the floor with her feet in
any
of our chairs. Intriguing, I know. Right?
Anyways, we decided to purchase a table and chair set for her and a couple months ago I began the search for the perfect set. Well, the prices can be quite substantial for such a small item, let me tell you. We finally settled on a school desk and chair from
Lipper
. The price point was in our budget and the reviews for the set all seemed to praise its durability and size. We couldn't be happier. Chloe LOVES workbook time now and
begs
to do it first.
Can you believe that?
Yes, she begs to do her workbook now and all because her feet can touch the floor.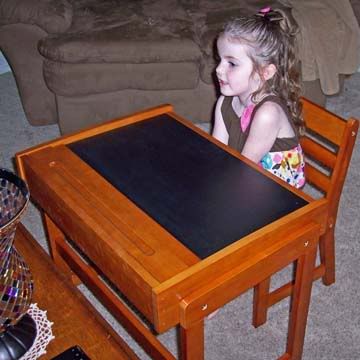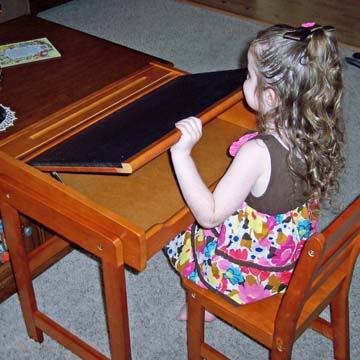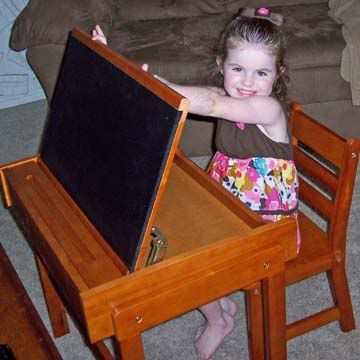 In other news, we missed a couple days of school last week due to family arriving in town and a trip up to New York City for a wedding (can you say field trip?) so we are a week behind this week. Oh well. We will just have to go a week into June. I didn't want to, but we will have to.
Also, we will be purchasing our kindergarten curriculum very soon. I have picked the reading level and all that so we will be able to begin kindergarten in July. Now if only I could wrap my brain around the requirements for our state for kindergarten. I am officially nervous. The listings also came out for the military today and our dream location was on it so we should find out in a couple of weeks if we are moving and when. Hooray! That just might change our homeschool registration process if we can move soon enough. Sheesh! So much to think about. I think right now I shall just focus on finishing up preschool. That's about all my brain can handle right now anyways.