I gave Chloe a small knitting loom for her birthday along with some bright pink chunky yarn. She decided to knit a hat for her baby doll with it (since that's the only size this particular look makes).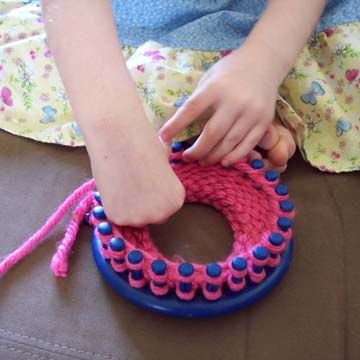 She has been working on this hat for 30 minutes every day for the past week and a half. I hope we will complete it this week. She is getting a little bored with it, but I just know she will be ultra pleased with her hat when she completes it. She gets all giggly and excited when I show her the portion she has already completed. She feels it with her little fingers and ohhhs and ahhhhs over it.
Yesterday, in the midst of one of her "bored" spells, I showed her my own knitting and asked her if she would like to knit like that someday. "Oh Yes Yes YES!!!!" she exclaimed repeatedly. "Then you must work on this hat and finish it." It was a great lesson in perseverance, a word we learned last week in our Childrens Book of Virtues. I love it when real life circumstances reflect something we've been reading about in school and give us that opportunity to really learn.