So, let me tell you about our week of school. We finished week 16 today and we are doing much of the same. Reading, reading and more reading. That's one of the things I love about Sonlight. We read loads of wonderful literature. Things I might not necessarily think to read on a regular basis either. Like nursery rhymes. I never thought to read one rhyme a day. I would look at our Mother Goose book and think to myself, "Now how am I supposed to read this? Do I read it all in one sitting? That's kinda boring. Do I read until Chloe begins to nod off?" and so I wouldn't read it at all. I would have to say this could possibly be Chloe's favorite book in our curriculum so far. She gets excited to read each nursery rhyme and usually asks me to read it two or three times each day.
After 16 weeks of reading the Uncle Wiggily book, we may have come to the decision to cut this book out of our day. Chloe groans whenever I pull it out of the shelf at the beginning of the day. We are down to once or twice a week readings from this book and she is doing much better with it, but I can tell she doesn't enjoy it. I asked her about it tonight and she claimed, "its just too long." I don't fully understand that because she loves longer books too. I can read chapter books to her and she thoroughly enjoys them. I asked her today if she would rather me read Raggedy Ann to her and she said "yes!" quite emphatically. I guess we are switching out books next week. And that's perfectly okay. I am finally able to come to terms with that idea. If we aren't enjoying one item, its fine to swap it for something more enjoyable.
Today we took a field trip to Storyville, a learning place for children ages birth through 5 years old. We've been there last year twice and enjoyed it so much that I thought we would head there today. We didn't have nearly as much fun as I remember having last year. They have a pretend grocery store inside, a mail room, a house (complete with kitchen, living room, laundry room, upstairs room and backyard) a theatre and a mini library. All these little areas are designed so the caretaker and the child can interact together and play and learn. The details of the place are phenomenal. The problem I saw today was that too many people brought babies 18 months and younger and they took the fun away from the older children. Mothers weren't keeping the babies from shoving their way to the items the older children were playing with and because I teach Chloe to share and give way to babies, she missed out on a lot of what she wanted to do. She kindly moved out of the way and watched quietly as the baby would chew on the toy cash register. Most of these mothers were just standing in the background watching their babies take everything apart and not doing anything. After waiting patiently for a bit, we would try to move on to something else. This proved a great learning time for Chloe though in a way you wouldn't necessarily have imagined. She learned what its like to to be on the receiving end of inconsiderate children who aren't taught to take turns or consider others higher than themselves. If we go again, I will have to pick a time when less people are there, if there is such a time. Maybe a different day of the week?
On a better note, we did enjoy a second field trip this week. Actually, it was our first field trip. Wednesday I took Chloe ice skating for the first time. It was my second time ice skating. Thank goodness I invited a girlfriend to go with us or I don't know how I would have managed taking Chloe around that rink by myself. This trip gave me the confidence I need to be able to taker her by myself in the future though. Of all the things I've ever introduced to Chloe, this is the first unfamiliar thing that she has taken too with such enthusiasm. It usually takes her a couple of tries to warm up to new endeavors...like riding a bike, roller skating, you get the picture. She LOVED it. She told me so WHILE she was skating. That's new. She asked if we could go again soon while I was turning in the skates after we finished. She even exclaimed at one point, "When Daddy gets home, we can bring him here to ice skate. Daddy will love ice skating."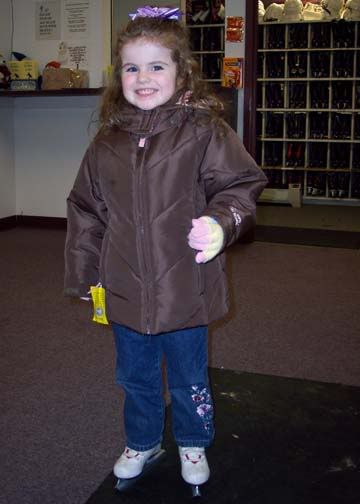 I have a video of Chloe's scripture verse for this week.
I also have a video of Chloe enjoying her shape blocks which she loves. Now I have to warn you, this video is a bit longer than normal. Chloe helped me edit it. I knew we were to keep a piece when she would begin giggling at herself on the screen. (totally too cute for words) I just wanted to show you what she does with these shape blocks. I also love listening as she tries to pronounce some of the shape names.
The fun thing with homeschooling is that I get to learn right along with Chloe. It might not always be the same thing she is learning (although many times it is) but I do learn quite a bit. Today I learned some fabulous things and I hope to be able to tell you about those things tomorrow. I think I am done posting for today though. Its bedtime and my fingers feel a bit weak from all this typing. Have a wonderful weekend everyone.