I wonder if anyone else gets so excited over new homeschooling items like I do. I love it. I could spend hours a day just perusing the internet, looking and drooling over all the homeschool curriculum and manipulatives out there. Oh boy oh boy. And I have plans to visit a local curriculum fair coming in April near me. Will the fun never end? I nearly lost myself when, not one, but two boxes showed up on my doorstep this afternoon. Of course, I expected said boxes since I ordered items last week, but still....excitement bubbled over and I let out a few squeaks and giggles. I tried hard to contain myself since Chloe was "resting" on the couch right next to me but let me tell you, that proved a difficult endeavor.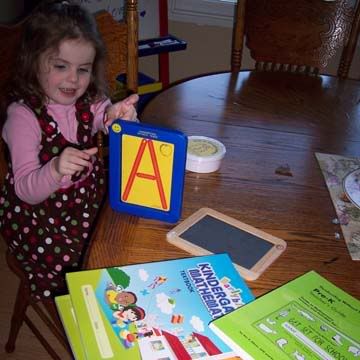 We immediately delved into the treasures...well..just as soon as the timer rang, announcing the end of our afternoon rest time (Mama's craft time). Chloe loved making dough letters. I had to stop her at "B" because she requested a park date before ballet class this morning and I had said we could. We needed to hurry. I set out the wooden pieces for her to form capital letters and allowed her up to "B" again. She loved that too. What a wonderful addition this will be to our school day.
Oh...and I purchased some
mathbooks
to add to our
sonlight
curriculum every day. They arrived today too and we finished a page of that before heading to the park.
Gee, I am having so much fun. I gotta stop though. I mean, seriously. I've got to get control. I could have Chloe dissecting frogs next week if I don't check myself. The kid is only four years old, after all. She thinks I'm crazy, but she loves me anyways.
I have one more thing to show you all. Check out the grin on this girl.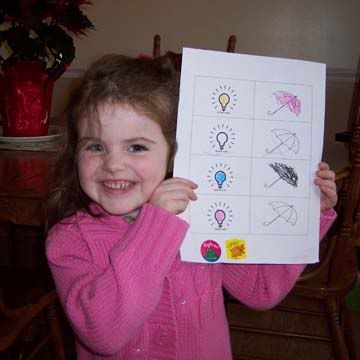 She got it! Perfect! I awarded her TWO stickers today and a fruit snack for her success. I asked her if I could photograph her with her picture and she practically knocked me down with excitement. After I snapped about 3 pictures she asked, "Are you gonna dance with me now Mama? Like you did yesterday? That was fun!"
Of course, you know I did.