Has it really been a month since I updated my homeschool blog? More than a month?
Really???
That's not good.
Let's see...what has been happening lately on our Journey to Ladyship.
~ We have found that a longer daily schedule does not work. We've cut out many of the extras I added into our curriculum so we do the bare minimum now. It works better that way. Chloe began dreading school and I just did not want that for her. I always enjoyed school and that is what I want for Chloe. I guess there is a reason Sonlight keeps their preschool curriculum short and sweet. (sometimes those experts really are experts)
~ We stretched the week back to five days instead of four. Cramming those couple of extra books in on day four was too much for us. This allows us to do an extra little project or two on Friday in addition to our workbooks. Pretty soon I will work up the courage to take Chloe on some field trips.
~We put the Japanese lapbook on hold. It was fun learning about Japan while our friends were there on a short term mission trip, but overall I think a Japanese lapbook was too intense for a four year old. We started a much simpler Thanksgiving lapbook this week. Chloe enjoys it more too. Here is what we made today.
A Thanksgiving Mini book.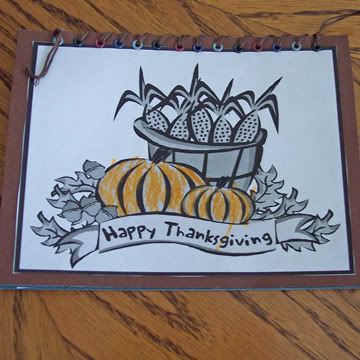 Here are some pictures of Chloe making her mini book.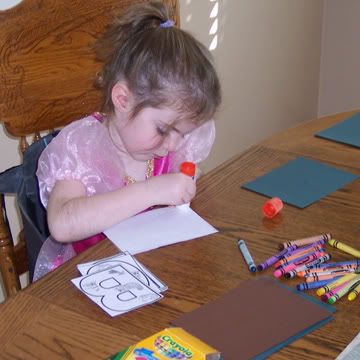 We took a creative detour and punched holes along the top of the book with my CropADial and I let Chloe add eyelets which I stamped into it. She loved working with Mama's scrapbooking tools. Word of advice though...we found the eyelets along the top inhibited the book from opening properly. Next time we will just sew string along the top and leave it at that.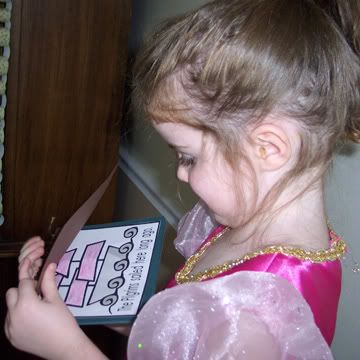 I printed off some fun little projects to include in this lapbook. More on that to come soon (I hope). I just need to get my hands on a lamination machine so our creations will endure little hands and Father time.