Sadly, with all that has been going on in our lives lately, I have not taken the time to update our homeschool blog. I am so far behind on
everything
so I am trying to play catch up today...with the house, with errands and with school. Yikes! What a task.
Anyways, I wanted to tell you all about a new class we added to our routine. Art. I checked out a book from the library with art projects ideas for preschoolers. Chloe picked our first project. Rice painting.
First we dyed the rice blue, red, green and yellow with food coloring. (She practiced scooping and pouring the rice into the bowls for an added learning exercise.)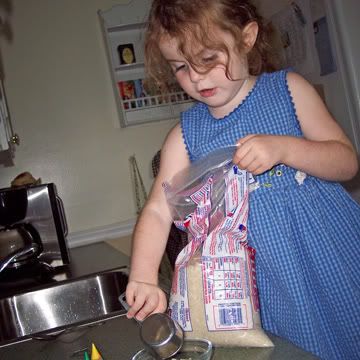 I helped her draw a picture onto the poster board. She found the large piece of blank, white paper a bit intimidating so I gave her a few ideas to get her started and then she imagined her own creative picture. She wanted a tree with her Mama standing next to it. I drew a shape of a tree onto a smaller piece of paper to give her an example of how it worked and she came up with the larger scaled picture herself.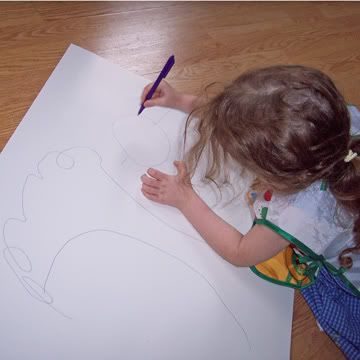 We painted watered down glue in sections on her picture and sprinkled the colored rice onto the paper. It took us a little while to get used to the idea that we needed to be quick before the glue dried. Mama was also forced to let go of her "clean floor" fetish and just allow the mess which invariably happens with creativeness.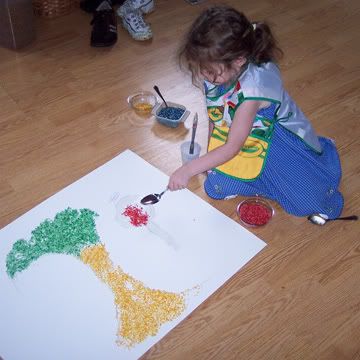 Chloe added a blue flower before she deemed the picture complete.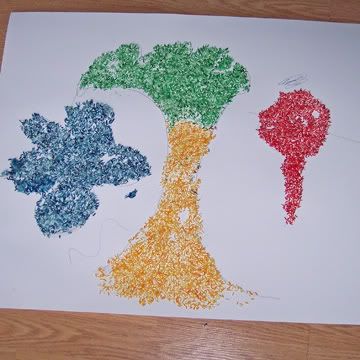 So, I've scheduled art class for Monday, Wednesday and Friday. We will learn to sew on Tuesday and Thursday. Chloe spied a kidlet-sized sewing machine at Joann's the other day and just about drooled the entire walk through the store. She begged for it so she could sew her own doll clothes.
How precious is that???
I thought about it for a couple of days and finally formulated a plan. I sat Chloe down, looked her in the eye and explained the plan. If she will work very hard and learn each step to sewing that I teach her during the next few months and IF I think she is ready...I will buy her the sewing machine for her next birthday. She agreed to this plan. So...I implemented sewing into our school day. More on that in another post though.