We finished our corduroy lapbook a couple of weeks ago and for some reason, I am unable to upload the video of Chloe presenting her project. Arg! Since then, we have started a lapbook on the country of Japan. One of my dearest friends traveled to Japan the first of this month with her husband as short term missionaries. They offer 5 minute English lessons to the people of Japan in train stations and at parks in order to strike up a conversation, friendship and eventually lead into a gospel presentation. I wanted Chloe to take an interest in their work and in missions in general so I thought it would be a good idea for us to study the country of Japan while our dear friends are over there.
This week I borrowed books from the library about various Asian animals. (Most of which probably do not roam the island of Japan, but hey...close enough, right?) Each day this week we focus on a different animal. Monday we chose elephants. I read a book filled with facts about elephants (most of which were african elephants) and we pretended to be elephants ourselves. Chloe adores these types of play exercises.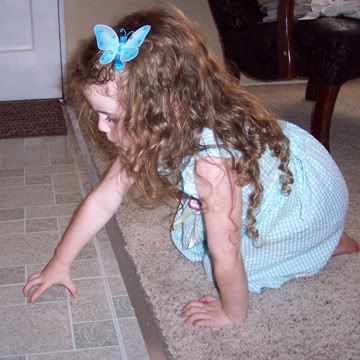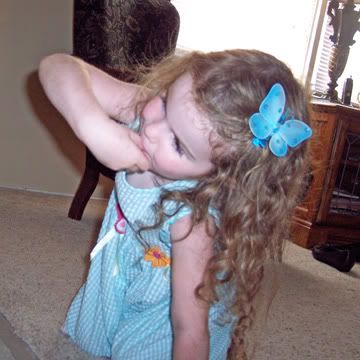 We drank water by sucking it up through our trunks and then spraying it into our mouths. We sucked up dirt into our trunks and sprayed it over our heads onto our backs to protect us from the sun. We rolled in the mud to cool ourselves off and we slept under a shady tree.
I thought it would be fun to learn origami while working on our Japanese lapbook. Its a Japanese craft, after all. I found a book at the library for preschoolers filled with origami animals. PERFECT! I immediately turned to the elephant section and we got to work. Lo and behold, I discovered that even a book for preschool origami proves difficult. I now present my feeble attempt at an elephant.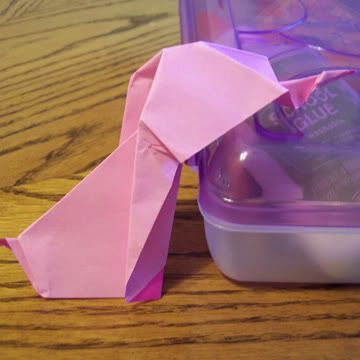 Supposedly, this elephant sits up. Mine flops onto his nose (trunk.) He needed a little help from the pencil box to actually sit up. I think I will practice some of the basic origami folds before attempting another animal. And I will most likely teach those same basics to Chloe too.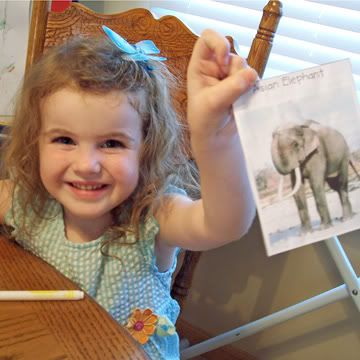 We then inserted a picture of an elephant with a few facts on the back into our animal pocket for the lapbook to finish off our day. What fun! Today we will learn about Rhinoceroses if there is time before ballet class tonight. I will have to show you some of the other things we've added to our lapbook previously. Its been quite fun.