Have I mentioned that I love school? Oh, yesterday. Right. But I do. I really love it. I probably haven't mentioned before the fact that I have known since I was four years old that I would homeschool. Its true. I always knew I would and have dreamed of the day when I could. You have no idea how excited I am that the day is finally here. Now I don't have the passel of children I hoped I would have by now, but that's okay. I am enjoying teaching my one precious little girl.
Today we blew bubbles. That's right. For school. How cool is that? (I never got to blow bubbles in school, but then again...I never attended preschool or kindergarten, so that's my problem right there) Up until today, I never would have classified bubble blowing as "school". But it stated right in her curriculum to blow bubbles. We usually blow bubbles about once a year because that is how often I think to get the bubble stuff out of the cupboard. Goodness gracious, but its fun. We should do it more often.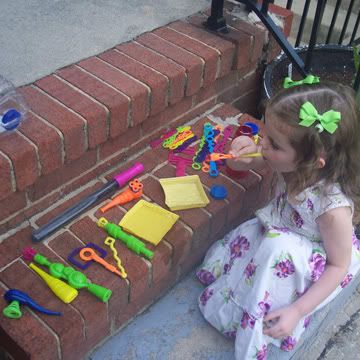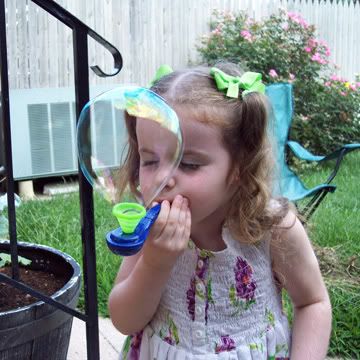 I am really taking this physical education thing seriously. I write out in my curriculum notebook an specific "exercise" for every day that we have school. I vary it up too...so some days she jump ropes, other days we go on a walk. Today she rode her bike around the block. This was our second time doing so and I can't believe I never thought of it before. If ever I wanted to go on a walk, I would haul her heavy stroller out of the shed, buckle her down and push her around the block. I never gave the bike a single thought. My mistake.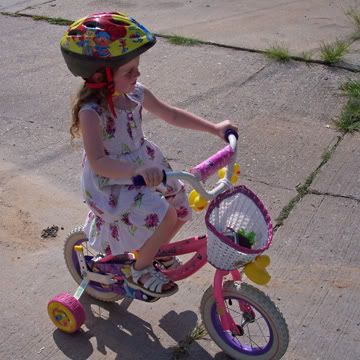 After just two times of riding around the block (last week and this week), she can now get herself over almost every hump in the sidewalk. (and when I say hump...I mean hump. Huge cracks where one side of the walk rises a good 3-4 inches above the other side) Today she even started steering crazily to show off her skills.
I knew homeschooling would be fun, but I never knew it would be this much fun. And Chloe loves it too. I thank God every day for the opportunity to sit and teach my daughter about His world. It truly is a privilege and I am blessed.
Tomorrow we are headed on our first field trip of the year. We will visit a pet store and hopefully have the chance to ask them some questions and maybe even pick up a book on kitten care or a little toy for the rascals. I better head to bed now before I nod off on the keyboard. Have a wonderful night everyone.