We've been following the ideas I gathered from
Charlotte Mason Help
regarding picture study this year. I chose to study Renior for our first 12 week term, since he painted quite a few pictures of little girls, ladies holding cats and other "cute" images my daughter would love.
Each Friday I sit down with Chloe and we view the art print on my laptop screen. I ask her questions about the painting and we talk about how it makes her feel. I lead her in a discussion of the painters use of color and how he created the focal point of the painting. I tell her when the painting was created, the medium used to create it and what was going on in the world at that time.
The past two weeks, after Chloe has described to me as many details of the painting that she can without looking, she jumped up and exclaimed, "Okay. It's time to paint!" I allow her this pleasure. I feel that this is a wonderful time for her to express herself. We've discussed painting and methods and colors and all that, so I guess I feel its natural to desire to paint something yourself.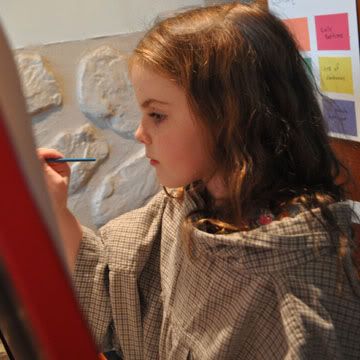 It's funny because she never tries to copy the painting we have been studying. She always picks some other random object she finds in close proximity to her art easel and paints that. This week it was a ballerina cat toy.
I am so thankful I found this website. What a wonderful way to teach my daughter a love of fine art. She enjoys it too. That's the benefit of the gentle, easy way of a Charlotte Mason education. And I am finding myself with a desire to paint too. Funny how that works.